From 0 to 200 - what a brilliant debut!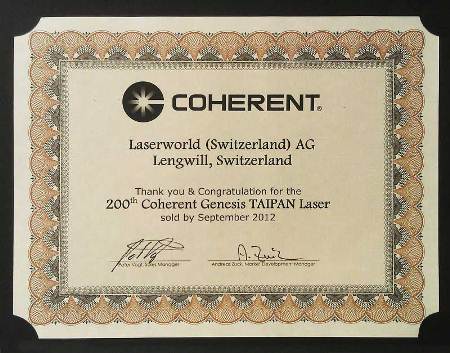 Laserworld recently completed the integration with
Ray Technologies
GmbH at the end of 2011. RTI is well known for high-end products using Optically Pumped Semiconductor Laser sources. Laserworld is proud to announce having received the certificate for the purchase of our 200th Coherent Taipan OPSL. This was already accomplished by September 2012!
With this momentum in mind, Laserworld was confident to sign with Coherent for the new multi-million dollar contract. Laserworld has already anticipated doubling the purchased OPSL quantity soon. After reaching this milestone so quickly, we would like to explicitly thank Coherent for their great products and support!


Even before 2011, RTI can already look back to a long experience with OPSL Taipan cavities and has been certified by Coherent for the first time in June 2008.