Coherent Taipan OPSL Integrator
Ray Technologies GmbH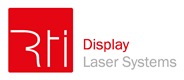 ---
Ray Technologies GmbH (RTI), a subsidiary of Laserworld(Switzerland) AG, is official integrator for Coherent Taipan OPSL solutions.
OPSL stands for "Optically Pumped Semiconductor Laser" and is a technology patented by Coherent, USA. The OPSL technology is very advanced, as it provides extremely sharp beams and very good beam specifications. It is also available in many different colors, which makes it perfect for combinations in professional whitelight laser systems.

RTI manufactures the PIKO and NANO Series as advanced, professional show laser solutions. Most of these units come with at least one OPSL head. Often the green DPSS laser head is substituted by an OPSL solution, as the color linearity, stability and beam specifications of the OPSL are of outstanding quality and, in most cases, better than common DPSS laser heads.



Find more about the distributed brand Coherent:
>> Distributed Brand: Coherent OPSL Taipan >>
What does "certified integrator" mean?
Integrators for Coherent Taipal OPSL lasers are certified companies, that have developed, designed and created own driver electronics solutions for the OPSL laser heads provided by Coherent. As this technology is very advanced, it is not easy to develop proper electronics. To become an integrator, the driver has to pass an assessment test at Coherent. Only if the driver passes these difficult tests, it is officially certified to be used with Coherent Taipan OPSL laser heads.
The latest driver technology of
Ray Technologies
has been approved recently. It is not larger than a normal cigarette pack and thus perfect for using it in very compact laser systems - to generate enormous output power in limited space.
Buy OPSL Laser modules
Find OPSL modules here: Coherent Taipan OPSL modules