Details
Due to several customer requests, I just wanted to post here that Laserworld stopped cooperation with Bax-shop.nl B.V. (also applies for the German Bax Shop). This was a mutual agreement. Since last week, Bax Shop is no official Laserworld Dealer any more and will not be supplied any longer.
Please direct all inquiries regarding this matter to
.
Details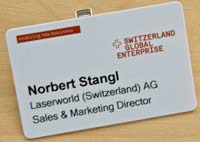 Yesterday we presented our company and the special export logistics solutions we use at the Aussenwirtschaftsforum Schweiz 2014 - a conference of the major export companies in Switzerland. Our good partner DHL Express, who handles our international logistics, invited us to present our company and logistics solutions to the executives of the major Swiss export companies.
Weiterlesen: Presentation of Laserworld's logistics performance at Aussenwirtschaftsforum Schweiz 2014...
Details
Welcome to my laser blog! This blog will be filled on a - more or less - regular basis with all kinds of different topics that maybe aren't worth official press releases or are a bit off topic. This blog will usually be maintained and written by myself. If one of my colleagues posts here, the post will be marked with the respective initials.
About me:
Norbert Stangl, Sales & Marketing Director
Working for Laserworld since 2009, before at a consulting company, before that at Daimler AG
Had some laser and event technology experience before I joined Laserworld
Why this blog?
There are many topics that I don't think fit our website's front page or our social media profiles. So this blog shall provide the possibility to share all these things with you and also let you comment and feedback on them.