The Emotion media Factory is specialized in very large scale Multimedia projects that usually incorporate lasers, video, pyrotechnics and many different types of water effects (like water shields, water screens, fountains etc.) at the same time. Formerly the Emotion Media Factory (EMF) was known as Laserland. As they now focus on complete and contracting solutions, the portfolio exceeds the laser-only range a lot: That's why Laserland changed their name to Emotion Media Factory to emphase the company goal of "composing magic moment" and of emotionalizing the spectators with audio-visual spectacles.


Project development and implementation
EMF has long year experience in the multimedia project business. They support the customer from the very first idea to the first real show on site. The team of different experts not only focusses the best possible laser implementation, but also helps the customer to create astonishing and overwhelming effects with a multitude of different media.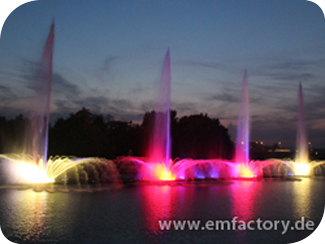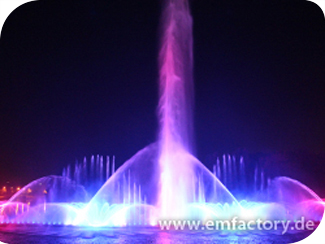 Water effects solutions
To emphase a large scale multimedia show it is necessary to combine different elements. Major parts usually are different kinds of water fountains and -screens, that are used as reflective media for both video and laser projections. Together with accurately controlled pyrotechnical effects and fog/haze the overall show appears 3D-like and catches the crowd.


Project work with Laserworld
EMF uses SwissLas or RTI laser projectors for all their projects. Especially the waterproof versions play a major role in the very large ones, as most of the them are realized in Asian countries at the moment. Therefore the laser systems must be extremely durable and must be able to withstand high humidity and dust in the air. As most installations include water effects as well, the laser projectors must also be able to stand waterspray. Even salt water conditions, like on cruise ships, are no problem for EMF: All AIDA cruise ships have been equipped with multimedia shows by Emotion Media Factory.